Mix 5 to 20 liters.
Laboratory mixer for research, development and small production.
Our laboratory mixers are ideal for quality assurance, small quantities, formulation testing, optimization of mixing processes and development of new processes.
The reproducibility of the results on the actual pro­duction process is decisive here. The mixing containers can be easily changed – cleaning before the next mixing process is no longer necessary.
Advantages of the MIXACO Laboratory Mixers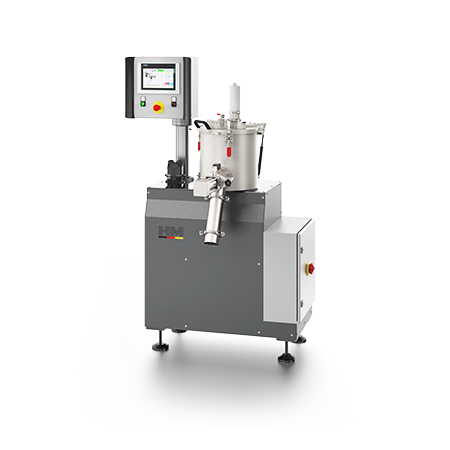 Laboratory Heating Mixer Lab HM
Laboratory mixer with heating and cooling function up to 20 liters
Learn More
Advantages of our Laboratory Mixers.
Easy and safe scale-up to production possible.
An optimal laboratory mixer enables uncomplicated, reliable and flexible research and development work. The laboratory mixer must be able to realistically reproduce the mixing processes for actual production in order to transfer the results from the laboratory scale by scale-up.
For this, the laboratory mixer must master the mixing processes and applications used in production. Our laboratory mixers master all mixing applications of large mixers, and the results can be easily reproduced.
With its innovative mixing tools and variable mixing processes, MIXACO laboratory mixers are ideal for many industries, raw materials and applications.
Mix small quantities from 5 liters to 20 liters
Ideal for frequent recipe changes
Laboratory mixer for all common mixing processes
Process different consistencies: dry, plastic, pasty, liquid
Laboratory mixer with heating function
Fast and effective – short mixing times with high mixing qualities
Reliable scale-up – direct transfer of test results to industrial production
Replication of various mixing processes of large industrial mixers
Handy, lightweight 5, 6, 10, 12 or 20 liter containers for versatile use in the laboratory
Exchange of mixing containers and mixing tools in a few seconds
Injection of liquid or gaseous media during the mixing process
Three-dimensional material transport for optimal mixing results
The laboratory mixer is not a benchtop unit, yet it is space-saving and easy to install via Plug & Play
Powerful and speed ­adjustable mixing drive for versatile applications
Intuitive operation of the laboratory mixer for manual and automatic operation
Innovative tool design for different mixing tasks
ATEX executions
Low energy consumption
Low maintenance requirements and low-cost, usage-dependent remote maintenance
Special surfaces for food
No dead spaces or cavities
No product contamination due to closed mixing chamber of laboratory mixers
Aggressive to gentle mixing of sensitive, temperature ­sensitive and fragile raw materials
Minimal cleaning effort for fast recipe changes: mixing elements and mixing tools easily accessible and demountable
Touch panel control with data acquisition and visualization (e.g. temperature, speed, effective power, torque, degree of moisture…)
Proven and low-maintenance machine technology "Made in Germany"
Joint product development and mixing optimization in our test centers
Innovative control and monitoring of the laboratory mixers via the MIXACO Control Center (cloud monitoring)
Mixer Quotation Configurator:
Just 2 minutes to the perfect mixer for your raw materials.
Simply tell us your requirements and we will recommend you the optimum mixer for your raw materials and applications. Use our configurator.
With your details on quantities, mixtures, temperatures, additional ­functions and other information, we will prepare a customized quotation for you.
Laboratory mixer for many applications.
Demanding mixing tasks on a small scale.
Our laboratory mixer has all the functions and mixing applications as the large industrial mixers. This means that even sophisticated mixing processes and procedures from production can be reproduced and predicted on a laboratory scale.
The MIXACO laboratory mixer is suitable for many different raw materials and mixtures. The flexible mixer is used in the pharmaceutical, cosmetics, food, paint and chemical industries, among others – mixing processes include:
Mixing
Homogenizing
Comminution
Coating
Dispersing
Defibering
Drying
Heating
Cooling
Tempering
Mixing processes under protective gas
Vacuum mixing
Injection of liquids / gas
Coloring
Here are a few examples of other special applications in the laboratory:
Mixing of battery masses and raw materials for the energy storage solution
Mixing for the pharmaceutical industry
Pharmaceutical wet granules
Small batches of bulk materials
Small batches for food development
Mixing of flavors
Coating of the mixed material with melted fats and recris­tallization by addition of liquid nitrogen or carbon dioxide snow
Melting and cooling
Coating of plant ­protectants by slow addition of liquids
Quality control of raw materials / incoming goods
Loading of carriers with liquid, for example in detergents
Grain build-up by repeated addition of liquids and powders
Dyeing of plastics
And much more
Options.
Laboratory mixers perfectly matched to your raw materials.
With us, there is no such thing as "the" laboratory mixer – from us, you get "your" laboratory mixer, perfectly adapted to your raw materials, products and requirements.
No matter which execution, with our laboratory mixer you can rely on perfect results of the trial mixes leaning on your industrial scale.
Design as laboratory heating mixer
Dedusting
Temperature measurement
Ventilation and feeding during the mixing process
Dosing / spraying / injection of liquids and gases during the mixing process
Stainless steel design
Mixing head cooling
ATEX executions
Data recording and evaluation
Remote maintenance
etc.
As the inventor of the container mixer, we at MIXACO are committed to innovation in the industrial mixing process.
FAQ.
Laboratory Mixer Knowledge.
What is a Laboratory Mixer?
A laboratory mixer is a mixer for small quantities that is used, for example, in research, product development, quality control, process development, product improvement and mixing optimization.
In this context, the "small quantity" on the market can vary from 1 ml to 50kg – because there are different requirements for the mixing size of the laboratory scale depending on the industry.
The design of the laboratory mixer is also not fixed. From the small benchtop unit to the larger floor-standing unit, a mixer can function as a laboratory mixer.
The laboratory mixer can be a mini-wheel mixer, in which a whole vessel is rotated, or a laboratory stirrer, a mini-agitator that is lowered into a mixing vessel. The barrel mixer or tumbler mixer also exists in smaller laboratory mixer variants. As with the large tumbler mixer, here a closed container is moved / shaken as a whole.
Laboratory mixers for more demanding applications and raw materials can be equipped with different tools and mix air- and dust-tight.
Our MIXACO laboratory mixer is a small container mixer that works on the principle of interchangeable mixing containers.
The mixing container is turned upside down for the mixing process, so that gravity contributes to an optimum mixing result and mixing can take place completely free of dead space.
Service & Support for MIXACO Laboratory Mixers.
You can rely on us and our experienced technicians.
More than mixers.
Holistic customer care for over 55 years.